About David and Brenda Rowell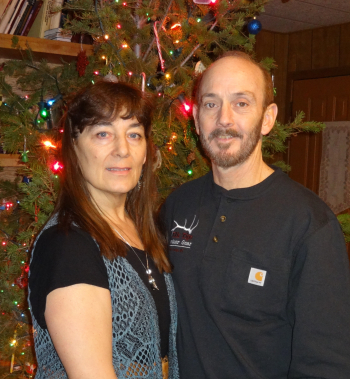 We, David and Brenda Rowell, have spent well over 20 years preaching, mentoring and discipling as the Lord has provided opportunities. Our primary "mission" is to draw closer to Christ, then to bring others to, or closer to Him. Secondly, we want to see the restoration of the founding principles given miraculously to these United States of America.
As of this writing in 2019, we are both around 60, give or take a few years. David is the writer and public speaker. Accurate historical and Biblical research is a joint effort in our husband/wife team. Brenda offers significant content input, editing, ideas and inspiration.
We want to work together with some of you and other believers toward spiritual renewal, awakening and revival in the Church. The Church will lead Americans and other peoples to restore or establish a Christian culture. 
Our History and Mission
We focus on salvation by grace apart from works, emphasizing the development of a personal loving relationship with Jesus Christ Himself. I (David) began serving as a lay preacher in 1996 in a congregation in Kalispell, Montana. The denomination of that church had decided to leave behind every legalistic doctrine held by the former cult-like organization. We were given the opportunity to preach to a couple of local congregations during that transformation denomination-wide.

We want to participate in what the Holy Spirit is doing. We want to follow His lead, learning and teaching others to experience extraordinary unfailing joy and to bear enduring spiritual fruit (John 15 and 16). The glorification of God results as we act in faith to take advantage of His promises. Together, the Body of Christ (the Church) can positively affect many millions of people now and in the future!
Wherever you are and no matter what situation you find yourself in, God holds out blessings for you to receive and to share. Once you accept Him as the complete solution, you can play a major part in blessing others for generations! But you will have to take action in belief.
Brenda and I enjoy helping others to seek God and to find His will for themselves. It is our prayer that you will find Him as the solution to life's challenges. This website will never be finished. Nor will our spiritual growth together. Growth is what life is about. If we are Christs, when we die we will be born into eternal life.
Mentorship and Discipling

We continually seek to be mentored and discipled and to do the same for others, as the Lord provides opportunities. Whether you need one on one guidance into a new or deeper relationship with God or have groups that we can encourage in that pursuit, we can find the Lord's will together.
When He gives us direction, we speak with individuals, couples, small or large groups. David has considerable training and experience in public speaking. We both learn to work personally with individuals whom God leads us to.
We have been given the privilege of mentoring some individuals who are rejected by most believers. Some of those include a convicted killer, drug traffickers and users, con artists, sex offenders and other felons. The Lord has instructed us to take risks with some specific individuals who He eventually transformed into new believers.
Those believers have become very good friends of ours that we can now trust. Some of them now lead others to the truth of God. One does so within the confines of a life sentence in prison. Through Christ, we are able to relate to anyone He brings us next to.  
Our Fellowship

Starting in 2001, we pastored a house church in our home in the little community of Garrison, Montana. Eventually, most of that group either moved or passed away. When that mission was complete, we joined a small local congregation in the area and have been there ever since. We went there with no agenda of our own, other than to follow the Lord's instructions.
In a few weeks, the pastor who we had just met, came up and said, "I think the Lord is telling me to ask you if you want to preach to the congregation". That's the way we live. We don't seek our own fallible will. We wait for Him to reveal His will for us to join Him in what He is doing around us.
In an intimate relationship with Him we daily ask God to show us His will so that He will be glorified, so that complete joy will be experienced in this life by people who bear His lasting spiritual fruit. That has become the ultimate purpose behind everything we do in this life.
How We Finance Our Personal Ministry

We prefer to finance our own activities of service. We do work that we enjoy in order to have money to spend on helping other people. We are both becoming successful entrepreneurs with several businesses.
Financial and time freedom enables people to focus on doing the work of God. We depend on God for "our daily bread". He provides that to allow us all to focus on helping others, rather than worrying constantly about how to obtain our own day to day needs.
Brenda is a licensed massage therapist and aroma therapy professional. David is a registered dietitian/licensed nutritionist. David is in the process of retiring from a medical nutrition therapy career. As of this writing, I still have a business consulting at two nursing homes two days a week.
In early 2018 we were blessed with an incredible new network marketing opportunity. We see the Lord blessing thousands of motivated people with it. We use that business to help people find time freedom through financial freedom. Ultimately, we seek to help people find real freedom anchored by Truth. (Hence, the theme of this website: "Freedom's Anchor").  
I, David, have a passion for hunting big game, particularly elk here in Montana. It provides a year's supply of lean, grass fed, organic meat for ourselves and to share with others. Since I also enjoy writing, I have a website about elk hunting that is an enjoyable side business (ElkHuntingTips.Net). In 2005 we opened Elk Tips Outdoor Gear in Deer Lodge, Montana, a sporting goods store with hunting and fishing supplies. Brenda's business is in the back of the building that houses the sporting goods.
Our Family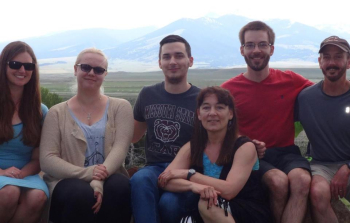 We raised two sons who have made us very proud and never disappoint us. They are both happily married to the only girlfriends they ever had. They are amazing couples! 
"Greater Things Than These"

We believe that we are here on earth for a purpose. Brenda and I are seeking to spend the last half of our lives doing the "greater things" that Jesus promised would be done (John 14:12). He said greater things would be possible, because He went to the Father after accomplishing the pivotal act of history; the Christ-event. 
We believe that the only thing that matters from this day forward is what we do with each next breath of life. What does He want you to do next? We can worship Him one breath at a time, improving and growing in the grace and knowledge of the Lord each day.
What you have done in the past is in the past, good or bad. Forgiveness is complete. Any time you make a mistake, it will also be in the past with the next breath. Reject the mistake, take a new breath and move forward in Gods grace.
The last breath you took is over. The next breath is the only one that matters. What will we all do with each next breath we take? Will we accomplish the greater things that Jesus said we could do? Will America and other nations be better off because of what we do today, tomorrow and the next day?
Let's work together to do the "greater things" under the constant lead of Christ Himself. To Him be the glory. Brenda and I pray for and seek complete joy for ourselves and others. We pray that lasting spiritual fruit will be borne by millions! We pray that a Christian culture will be reestablished in America and also in other nations.
Feel free to Contact Us with your thoughts.