The Bride of Christ
Who is the Bride of Christ and how does she make herself ready? There are many heresies out there that teach that only Israel can be the Bride of Jesus. Many even teach that the Body of Christ is not the same as the Bride, or Wife of Jesus. Those errors are so easily revealed. We will take a quick look at the scriptures that do that and address the readiness concern.
The "marriage of the Lamb" will indeed come when "His Wife has made herself ready" to be the Bride of Christ. Revelation 19:7-8 Let us be glad and rejoice and give Him glory, for the marriage of the Lamb has come, and His wife has made herself ready. And to her it was granted to be arrayed in fine linen, clean and bright, for the fine linen is the righteous acts of the saints.
"Saints" is a term reserved for those who have been saved by Jesus's death and resurrection on our behalf. Saints recognize the need to continually repent of the sins His crucifixion paid for.  The relationship with God Himself grows from that.
Saints have set themselves apart for Him and, as Christ is allowed to live in them, "righteous acts" are manifest more and more with maturity in Christ's Presence. Those acts are manifestations of His righteousness living in us. 
Israel as the Bride of Christ
Israel was the fiancé/bride of God. (The same God Who became flesh, as Jesus.) But because of rejection of Him and "adultery", He divorced her. Because of His mercy and her repentance, He will once again restore her, and she will be part of the Bride of Christ through His salvation act. (Isaiah 54:6, 7; 62:4, 5; Jeremiah 3:8)
The Body of Christ
In Ephesians 5, Paul clarifies that the term "Body of Christ" is the Church and that Christ is the Husband of that body of all saved people. Verses 28-32: So husbands also ought to love their own wives as their own bodies. He who loves his own wife loves himself; for no one ever hated his own flesh, but nourishes and cherishes it, just as Christ also does the church, because we are parts of His body. For this reason a man shall leave his father and his mother and be joined to his wife, and the two shall become one flesh. This mystery is great; but I am speaking with reference to Christ and the church.
So, we see that the Church is both the body and the Bride of Christ. God considers marriage to create a unified couple into "one flesh". He wants his marriage to the Church to be a "one body" relationship of eternal unity.
Israel is restored with the rest of humanity under the new covenant by the Messiah. As Paul, a Jew, was preaching the gospel to gentiles he said, "Christ lives in me; and the life which I now live in the flesh I live by faith in the Son of God, who loved me and gave Himself up for me." (Galatians 2:20)   
Ephesians 2 makes it quite plain that Israel through Christ will be one body, along with the gentiles who are also saved through him. Verses 14-15: For He Himself is our peace, who made both groups into one and broke down the barrier of the dividing wall, by abolishing in His flesh the hostility, which is the Law composed of commandments expressed in ordinances, so that in Himself He might make the two one new person, in this way establishing peace; and that He might reconcile them both in one body to God through the cross.
In fact, Paul calls gentile believers spiritual sons of Abraham. Galatians 3:7 "Therefore, recognize that it is those who are of faith who are sons of Abraham." So, we know that Israel and gentiles will become one body to God. Let's look at what Paul said about the marriage relationship between a man and wife and how he equates that relationship to Christ, the Husband of the Church (His wife).
Unity of the Body of Christ
That is what He is waiting for! He wants the Bride of Christ, the Church, to be unified as one together, and with Him. He will not come for her until that is in place. Only a massive final worldwide revival, like nothing in history, can do that.
Jesus prayed very thoroughly in John 17 about that unity. Notice the repetition of His decree. Verse 11 ...that they may be one as We are. Verse 21 ...that they all may be one, as You, Father, are in Me, and I in You; that they also may be one in Us, that the world may believe that You sent Me. 22 And the glory which You gave Me I have given them, that they may be one just as We are one: 23 I in them, and You in Me; that they may be made perfect in one, and that the world may know that You have sent Me, and have loved them as You have loved Me.
The emphasis is on complete unity so that the whole world will know that the Father sent the Son in unlimited love. This will take place somewhere on the timeline of history.
It can happen in this generation! Division by denominational lines will not be part of that unity. The Body and Bride of Christ must simply be united.
It's Our Choice He is Calling to Us
The Lord longs for the Bride of Christ to make herself ready for Him! He provides the power to do that. None of us can get together and work that "readiness" up with our human ability. Rather, "it is God who is at work in you, both to desire and to work for His good pleasure." (Philippians 2:13) He gives us the will and the ability. 
Remember, He calls to us, but we must choose to receive Him. He's always a Gentleman. He courts us. He does not grab us by the hair, so to speak, and drag us into compliance to some spiritual cave. He lets us choose Him (or not) and then He goes to work in us, if we are willing!
The engaged (chosen but not yet married) Bride of Christ is wooed with loving intimacy. It is truly a spiritual romance relationship that He holds out to us! The nation of Israel and everyone else in the world can become part of the Body of Christ, His wife.
2 Chronicles 15:2 describes Him playing a relational "hide and seek" with us, "...if you seek Him, He will let you find Him; but if you abandon Him, He will abandon you." Jeremiah 29:13 promises, "And you will seek Me and find Me when you search for Me with all your heart." He wants us to seek to know His heart.
By His mercy and power, we can "make ourselves ready" for him. Nothing in our past will disqualify us from His incredible mercy and love. To be part of the Bride of Christ making herself ready for Him, we need to seek His heart. We must "seek His face" (Psalm 105:4; 27:8 and many other scriptures), clearly indicating that we should seek a close relationship with our Bridegroom!
Global Revival is Coming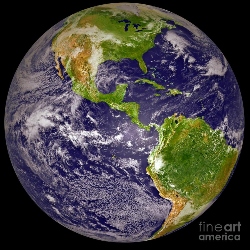 A global revival can happen in this generation! Jesus wants to return to a worldwide revival that makes the Bride of Christ ready. A global spiritual revival, awakening, renewal and reformation that results in the knowledge of His glory covering the earth! (See Habakkuk 2:14) Have we thought He was not capable of that because of the filter of the "end-time' doctrines we have believed?  
Until now, the Church has not been made ready for Him, or He would have returned to receive her. He is "waiting" for a generation in time when the Church will choose to pour everything into preparation for Him. He longs for that day, as should we!
Will yet another generation pass? Things in the prophetic world appear to be lining up for the most massive spiritual revival in history! It has already begun in many areas of this nation and the world. We need to become part of it. We should be longing for Him.
He Longs for His Bride to be Made Ready
I will be vulnerable here and share a personal encounter with Him through some dreams I've had. (He sometimes speaks to people in their sleep when we are not so easily distracted.)
On March 16, 2022 I wrote in my dream journal: "While praying in bed I was telling God that I hadn't had any dreams lately. I told him I wanted to know what was on His heart." I have continued to tell Him that.
I began to think that I needed to go back over dreams He has already given to me. That I needed to make sure I am receiving all I can from them and doing what they lead me to do. I felt that I might not have more dreams from Him until I do.
On April 20, 2022 I wrote: "Yesterday, I looked back at the first dream in my journal from two years ago. I learned more from it than I had ever seen. This morning I fell back to sleep after 7:30 and I had a recurring dream. I have had this seemingly "stupid" dream many times.
In the dream I am unmarried, and I don't even know Brenda. (My wife of 40 years as of this writing.) In the often-recurring dream I am trying to build a relationship with a young woman who is obviously too immature to be a good wife. In this recurring dream, I end up longing desperately to find a good wife. The dream ends with a heart-wrenching, agonizing prayer for a wife!
Then I wake up and am very relieved to remember that I am married to Brenda. I've always felt bad about even having that dream. I have always dismissed it quickly. This morning I asked God why I keep having that "stupid" dream. His answer was instant and clear, 'You tell Me you want to know My heart. Now you know how I feel about My Bride.'"
If He feels the way that I always felt in that recurring dream, it is a painful, heart-wrenching desire to be married to a good wife. (I am!) I can say that He has given me a wife that is much more "prepared" for me (and I for her) than the Bride of Christ is for Him at this point in time.
When I wake up from that dream, I am so relieved and feel so thankful and blessed. I want the same for our Lord. He longs for us to be made ready for Him as one Body, the Bride of Christ. He can make that happen, if enough of us seek that from Him.
He is beginning with the usual biblical "remnant". The remnant will quickly catalyze into a massive renewal, awakening and revival. It will result in the knowledge of His glory covering the earth, as the waters cover the sea. The Bride of Christ will be a witness to and influence the whole world.
Don't let your belief about how "the end time" will look filter out what the Bride of Christ will be and do. Jesus longs for His wife to make herself ready. If enough of us seek Him with all our hearts, He will provide all that is needed for that to happen. 
Unity in Him is a Relationship of 
Holiness
He wants an intimate relationship with us, even in our imperfection. He wants to know us and us to know Him very deeply. But, "Many will say to Me on that day, 'Lord, Lord, did we not prophesy in Your name, and in Your name cast out demons, and in Your name perform many miracles?' And then I will declare to them, 'I never knew you; leave Me, you who practice lawlessness.' " (Matthew 7:22-23)
If we "practice" lawlessness, we continue in sin unabated, because we aren't seeking Him. In His presence, sin may fleetingly come and go with forgiveness, but the intimate relationship with Him will produce "the righteousness of the saints" (the fruit of the Spirit).
I am a masculine man through and through. But I can seek Him intimately as part of the Bride of Christ, because I know how much He loves me and gave His life for us all. He created us and forgives us continuously. How could we not love our God who is like that? The Bride of Christ is preparing herself for Him! We should long for and seek Him as the bride in the Song of Solomon does:
"On my bed night after night I sought him whom my soul loves;
I sought him but did not find him.
'I must arise now and go around in the city;
In the streets and in the public squares
I must seek him whom my soul loves.'" (Song of Solomon 3:1-2)