Unity of the Spirit: That They All May Be One
The phrase "unity of the spirit", used by Apostle Paul in Ephesians 4:3, was proclaiming what Jesus Himself had prophesied and set in motion through prayer. Jesus declared in John 17:21, "…that they all may be one, as You, Father, are in Me, and I in You; that they also may be one in Us, that the world may believe that You sent Me." This was more than just a great idea for "complete unity" of the Church (verse 23, NIV). 
People, this is incredible! We need to take a deeper look at this beyond-exciting proclamation of Jesus! If Jesus prayed something and recorded it, we should consider it a command and something that will indeed happen fully.
When Jesus prayed this seemingly impossible prayer, He wasn't begging the Father for a few thousand or even million close, loyal friends among Christian congregations here and there throughout the timeline of history. Jesus, the One to whom "all authority has been given" (Matthew 28:18 and John 17:2), was proclaiming "the end from the beginning" (Isaiah 46:10). He saw it happen in advance.
He will have His way. I want to see that in my lifetime! Are you in? Go after His heart. God is calling for this to happen in this generation of time. He will bring about that unity of the spirit, if we seek it.
Stop Limiting God
Jesus was offering this to us when He recorded that prayer. It is ours to accept or reject. We need to stop limiting a limitless God! The only limitation is when enough of us will accept it, so that this will become reality throughout the world.
Ultimately, He wants complete unity of the Spirit with all of mankind! Sounds impossible, right? God does the impossible when people agree with His deepest heart's desire. At some point, when believers are brought to complete unity of the spirit, "the earth will be filled with the knowledge of the glory of the Lord, as the waters cover the sea". (Habakkuk 2:14) What limitations do you see there? I see none. I want to see that with my own eyes, if I can live that long!
The full meaning of unity of the spirit is only understood with a complete lifting of "the veil", (2 Corinthians 3:14) through Christ sending Holy Spirit to teach us "all things" (John 14:26). That veil is progressively lifted in our own minds through an intimate relationship with Him, as we pursue His will with all our heart.
After His Heart
God patiently looks for people who are "after My heart, who will do all My will" (1 Samuel 13:14). That was the whole point of Jesus saying He wanted the Church to be one with Him and the Father. Do you think you're not capable or worthy of that unity of the spirit with Him? Do you think you can't possibly expect God to give us something Jesus Himself asked for from the Father? Do you think the Father will limit this gift Jesus asked for?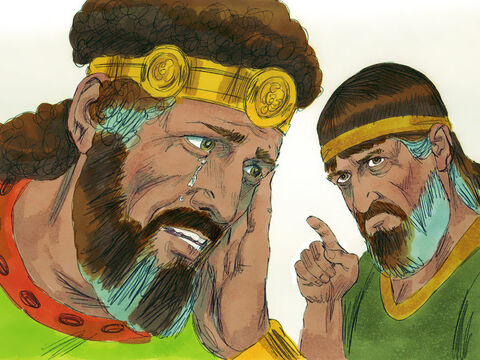 2 Samuel 12:7 Nathan said to David, "You are the man!"
All we must do is be "after His heart", pursuing what He wants above what we think we want. He will make it happen. Think about who He said was "a man after my own heart" (Acts 13:22).
King David was the man who lusted after another man's wife, committed adultery with her and when she became pregnant, had her husband killed in battle. With deep repentance David maintained the description of being a man after God's heart, even after such a grievous sin. Now, can we do that?

Paul described this unity of the spirit when he prayed that we would, "be able to comprehend with all the saints what is the width and length and depth and height—to know the love of Christ which passes knowledge; that you may be filled with all the fullness of God." (Ephesians 3:18-19)
The Body
Paul said in Ephesians 1:23 that the Church, "is His body, the fullness of Him who fills all in all." In the 4th chapter he said, "There is one body and one Spirit, just as you were called in one hope of your calling; one Lord, one faith, one baptism; one God and Father of all, who is above all, and through all, and in you all." (Verses 4-6.) The Church is described as the Body of Christ for good reason (see also 1 Corinthians 12:12). Christ "is the head of the body, the church" (Colossians 1:18).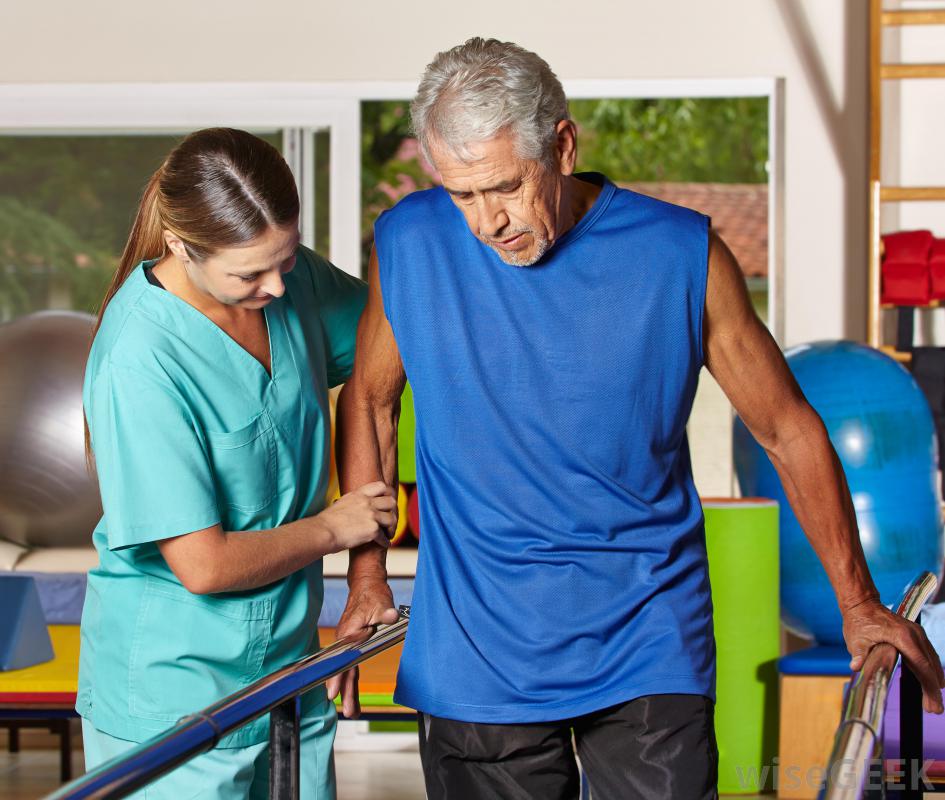 Imagine your body not doing what your head is trying to tell it to. A worst-case scenario would be quadriplegia, complete paralysis. Or, what if one side of your body doesn't do what the brain wants it to, as happens with a stroke? Or, a leg is broken, a knee is damaged, an elbow is injured, a muscle group is torn, etc.? You get the picture.
The body is "wonderfully made", as the psalmist said. That's an understatement. Scientists are still discovering systems in the body that they don't understand. Would the spiritual counterpart that God created (the Body of Christ, the Church) be any less amazing?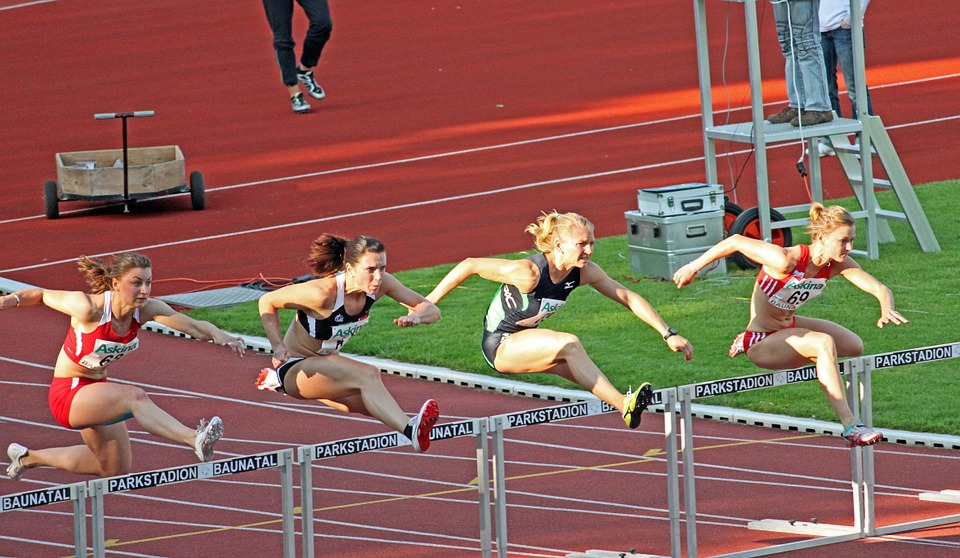 The many diverse parts of the body must function in complete unity, or you end up, at best, not able to move properly. At worst, you die. Unity of the diversity is critical for good bodily function. The spiritual Body of Christ is no different. "For as the body is one and has many members, but all the members of that one body, being many, are one body, so also is Christ." (1 Corinthians 12:12) (By "diversity" I mean of function and gifts, not core beliefs. Romans 12.)
The many diverse parts and functions of the Church, the Body of Christ, must be coordinated by the Head through unity of the spirit. That unity is God's job through Holy Spirit but if we don't agree, disfunction occurs. God doesn't ever act alone. He looks for people who are after His heart's desire.
If one part of the Body says to another part, "I have no need of you", breakdown happens (verse 20-21). The Body begins to limp, trip and fall. It certainly cannot move with agility, speed, endurance, or skill. The Church has slowed to a crawl, but members of the Body are crying out to God for healing today.
We want to serve Him properly. Pursue His heart's desire for complete unity of the spirit, "so that what is lame may not be dislocated, but rather be healed" (Heb 12:13). Miraculous healings of the human body picture spiritual healing of the Body of Christ. Miraculous healings will be seen more and more. Verifiable healings are increasing at this time.
Healing Must Come
In recent decades, massive weakness has occurred in the Church, the Body of Christ. The Church has become lame. But healing has begun. Coordination is being restored by Holy Spirit. Unity of the spirit is happening. Some "parts" of the body might have to be cast off and replaced with a viable part.
Hebrews 12:12-13 describes the healing needed. "Therefore, strengthen the hands which hang down, and the feeble knees, and make straight paths for your feet, so that what is lame may not be dislocated, but rather be healed."
Church denominationalism focuses groups on themselves and how they differ from others, creating division. We need to ask God to heal that division. The one Body needs to be directed by the Head through the one Spirit.
 For centuries, the Body of Christ couldn't even "walk" together. With complete unity of the spirit, the Body will be able to efficiently, effectively and with agility walk and run together to do the "greater works" that Jesus said we would do with Him (John 14:12). That has not been realized in the denominational-driven body of believers since Acts 2 occurred.
Complete Unity of the Spirit
Unity of the Spirit leads to Holy Spirit revealing the width, length, depth, and height of "all things", including the love of Christ that is beyond comprehension by the natural mind! Look at another often glanced over scripture that Paul recorded in 1 Corinthians 2:16, "who has known the mind of the LORD...? But we have the mind of Christ."
Are you grasping the depth (and width...) of all these mind-blowing scriptures? Do you agree that we have been limiting a God who wants His glory to break out all over this world, like the ocean waters that leave no part of the seabed untouched?
In Habakkuk 2 we read these prophetic statements, "Write the vision… for an appointed time… wait for it…it will surely come… The just shall live by faith…" (despite evil people plundering many nations). But, "the earth will be filled with the knowledge of the glory of the Lord, as the waters cover the sea."
The Church, until now, has not expected to see these incredible things. We have limited Him by our very limited belief. He will not be denied His heart's desire forever! The time is now to believe these things with complete unity of the spirit, oneness with the unlimited Creator of all things, Who has all authority.
We should be asking God to reveal to us the full meaning of "unity of the Spirit" and being "one in Us" (John 17). To date, in the history of mankind, this has not been fulfilled. If you are waiting on Christ to make it happen, let me tell you, Christ is waiting on us!
He's waiting for someone "after My heart, who will do all My will" (1 Samuel 13:14). Unity of the Spirit, and His creation being "as one" with Him, is Jesus's deepest desire and plan for His creation of mankind.
We are now already in the early stages of the greatest spiritual revival in the history of the world! If you haven't seen it, you will. "Wait for it. It will surely come." The reason this revival can last and grow until Christ returns will be because Jesus's prayer for complete unity of the Spirit will be fulfilled.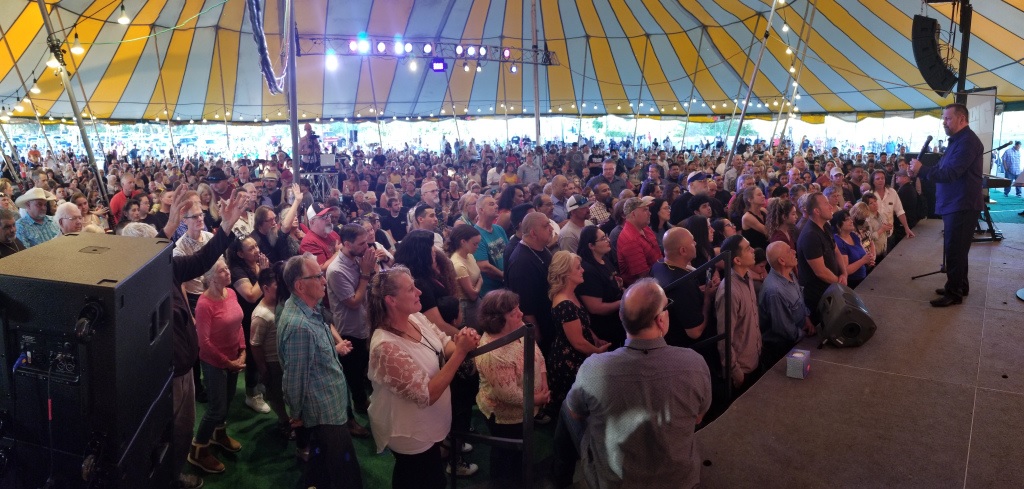 Mario Murrillo Ministries Tent Meeting in California 2020
America: United Under God
Through unity of the spirit the Church will restore these "United" States to being "one nation" (a united nation of states) "under God". They will once again and more so be "indivisible" in unity with Him. No country will ever be perfect, but we can, through repentance and seeking His heart, have solidarity through Christ from sea to sea.
The most important factor to solidifying that and refusing to allow Satan to tear it down again will be the unity of the Spirit in the Church. The truth beyond just "salvation of sinners", unity of the spirit, must be proclaimed widely. Truth sets people free. Truth gives "liberty and justice for all" people. (See John 8:32)

Complete unity of the Spirit will involve "seeking first the kingdom of God" (Matthew 6:33). He is Judge, Lawgiver and King. Hence, the phrase "kingdom of God". God IS government as King of the universe. "Of the increase of His government and peace there will be no end". (Isaiah 9:7)

It is the Church's job to bring His ever-increasing, never-diminishing government (and His righteousness) to the earth "first" and foremost. His kingdom is to be ever-increasing. It does not wane. It is not waiting to increase. It is ever-increasing.
Don't tell me the Church should not be part of that government, bringing it into reality on earth. We are to bring His will, His kingdom to be done on earth. (Matthew 6:10) If you're waiting on Him to do that alone, know that He is waiting on us, as His "royal" (kingly) priesthood! (See 1 Peter 2:9)
The Unites States of America was founded on Judeo/Christian principles and civil government outlined in the Old Testament. Our founders made that quite plain. Do not believe the lie of "separation of church and State". There is no such thing in the Constitution.
John Adams merely wrote a letter telling the Danbury Baptist Church that there would be no official Christian denomination recognized by the federal government. He said there would be a separation of Church and state regarding denominations. Adams was assuring the Baptist Association of Danbury, Connecticut that the newly formed federal government had no business nor authority to do that.
The Christian Church, in general, influenced the various civil governments from the founding of America. Christians participated in civil government across this nation. There is a difference between "politics" and "government". We should not confuse the two. God expects His Church to be part of the civil government as evidenced by Proverbs 29:2, "When the righteous are in authority, the people rejoice; But when a wicked man rules, the people groan."
Does God Play Hide and Seek?
Remember, "His mercy endures forever" and is "new every morning" (Psalm 136 and Lamentations 3:22-23). An occasional slip into sin, if truly repented of, does not destroy our chances for unity of the spirit with Him. On the other hand, continuing or "abiding" in sin does (Romans 6:1). A holy pureness of heart, seeking His heart with a truly repentant attitude paves the way for that "at one" relationship with the God of grace and mercy.
To give Christ the deep things of His heart's desire, we must seek and pursue His heart. God likes to "play hide and seek". He wants us to seek and find Him! "And you will seek Me and find Me, when you search for Me with all your heart." (Jeremiah 29:13) And Deuteronomy 4:29 "...you will seek the Lord your God, and you will find Him if you seek Him with all your heart and with all your soul." One more, "If you seek Him, He will let you find Him" (1 Chronicles 28:9 NASB).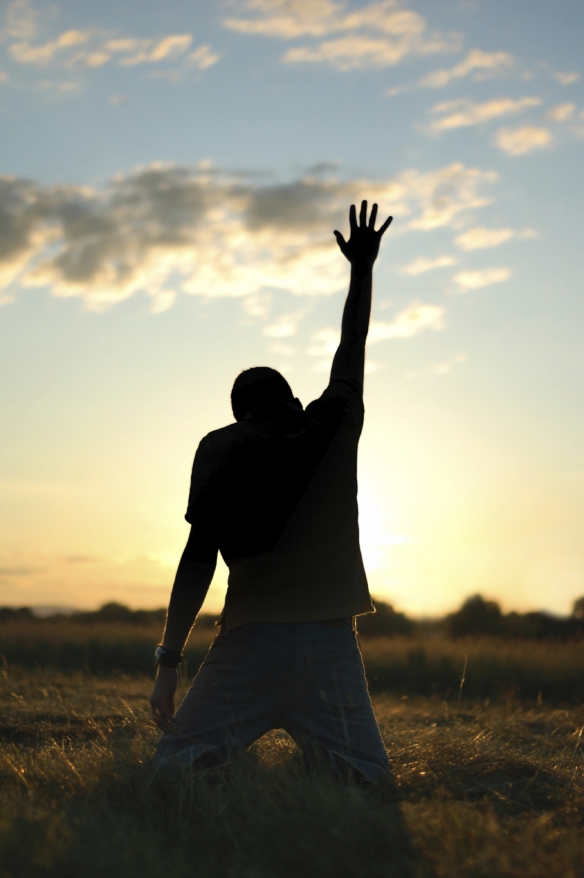 When we seek His heart, it will unlock the power of Christ's prophetic prayer for unity of the spirit and we will know the depth, the height, the width, and the length, so we can experience the unfathomable power of the love of Christ! That power will save America and many other nations who learn what it means. It's not just to be saved from sin, but to "seek Him with all your heart" and to live an "abundant life" with Him! (John 10:10)

After all, Jesus said the most important and second most important commands were, "you shall love the Lord your God with all your heart, with all your soul, with all your mind, and with all your strength." And, "You shall love your neighbor as yourself." (Mark 12:30-31) Now, that, my friends, is compete unity of the spirit! That is Heaven meeting with the earth in unity. 
If we want the whole world to be covered with the knowledge of the glory of God, we will need to seek God's heart's desire for "all men to be saved" (1 Timothy 2:4). Unity of the spirit in the worldwide Body of Christ will result in preaching the gospel to all the world and making disciples of all the nations. (Matthew 24:14;  28:19 and Mark 16:15)  Then the end will come and Jesus Christ will come "with power and great glory"! (Matthew 24:30)  
Some images on this page provided by Good News Productions International and College Press Publishing.