Repentance and Forgiveness of Sin
Jesus commanded, "that repentance and forgiveness of sins should be proclaimed in his name to all nations...". (Luke 24:46-47 ESVUK) Notice that He said to proclaim this "in His name". It is so vital for salvation that He literally said to use His name when proclaiming the gospel of repentance and forgiveness of sins. The possibility of forgiveness came through His sacrifice on the cross.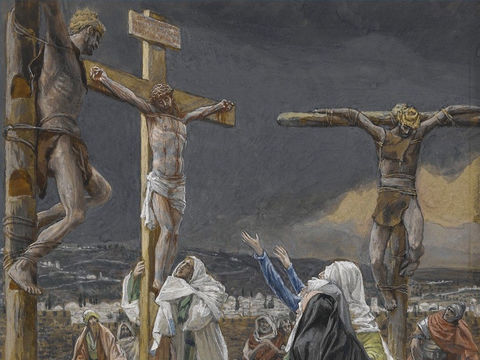 With the undeserved punishment and death penalty applied to His sinless life as God in the flesh, forgiveness was now available to the entirety of fallen mankind. He left His position at the right hand of "the Father" to become the Son of God in human form. What He went through willfully that day paid the penalty for every sin of every human being (Hebrews 7:27). It even prepared a way for us to have direct, uninhibited access to God (Ephesians 2:18; 3:12), along with the guarantee of eternal life.
That heroic, victorious, epic, pivotal act of history won Him the right to say that "all authority" had now been given to Him! Now He could say, "use my name" to tell all the world that repentance and forgiveness of sins was finally available once and for all.
Repentance Required for Forgiveness of Sin
The condition for receiving complete forgiveness is true repentance. The sequence will always be "repentance and forgiveness of sins". We do not receive forgiveness without repentance. So, we need to consider what true "repentance" is. We can define sin as simply, "lawlessness", transgression of the immutable law set forth by the Creator. (1 John 3:4)

Here is the definition of "repentance" from the New Testament Greek Lexicon, "to change one's mind for better, heartily to amend with abhorrence of one's past sins." Some translations use the phrase "turn from your sins", instead of the word repentance. You get the picture. (Repentance does not imply the possibility of sinless perfection from repentance forward. Rather, repentance is progressive!)
Jesus began bringing the Kingdom of Heaven near to people on this earth and told His disciples to do the same. Matthew 4:17 Jesus began to preach, saying, "Repent, for the kingdom of heaven is at hand." And, Luke 10:9 say to them, The kingdom of God has come near to you.
An Unfathomable Cost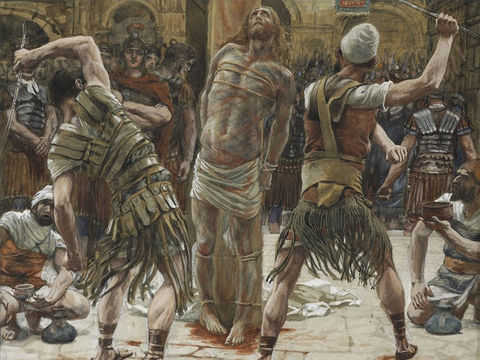 Forgiveness came after Jesus paid the penalty for our sins Himself. Repentance is taught throughout the Old and New Testament, before Christ died for our sins. The "forgiveness" part of the "repentance and forgiveness of sins" equation was not available until Christ died. He gave up His sinless human body to be beaten and ripped apart beyond recognition (Isiah 52:13), allowing His blood to flow out of His body, causing His death while hanging on the cross.
The cost for God to do that, is beyond imagination! The Creator Himself became a part of the humanity He created in order to save us from the sins of our fallen nature. Jesus went through horrible emotional and excruciating physical pain leading to His death as a human being in order to give us the opportunity for forgiveness and life.
We should not take that lightly. Why would we even think of asking for His life to pay for our sins, His blood to cover our fallen nature, without a repentant attitude toward those very sins! God is a just God and requires the penalty of death for our sins (Romans 6:23).
A Choice Must Be Made
He is also a merciful God. We have a choice. We can die for our own sins in the fire of hell Matthew 10:28), or we can accept Jesus's death in payment for our sins. We must choose repentance and forgiveness of sins.
Even in the Old Testament, the concept of choosing between life and death was in effect as a spiritual law. Deuteronomy 30:19 I call heaven and earth to witness against you today, that I have set before you life and death, the blessing and the curse. So choose life in order that you may live…
Did you realize that God is "pro-choice"? Indeed, He is. We must choose, but He tells us the right choice to make. "Choose life". God is pro-life. In addition to forgiveness and payment of the death penalty for our sins, He gives us eternal life as a gift. But we must choose life by repenting of what earns us death.
There is nothing we can do to earn it. We simply must repent and choose to receive the gift. Romans 6:23 For the wages of sin is death, but the free gift of God is eternal life in Christ Jesus our Lord.
John 3:16 "For God so loved the world, that He gave His only begotten Son, that whoever believes in Him shall not perish, but have eternal life.
Believing in Him is a choice. We must express that choice directly to Him in faith. Romans 10: 9 …if you confess with your mouth Jesus as Lord, and believe in your heart that God raised Him from the dead, you will be saved; 10 for with the heart a person believes, resulting in righteousness, and with the mouth he confesses, resulting in salvation.
The Promised Holy Spirit of Power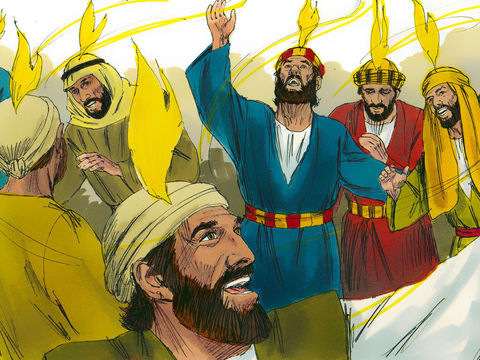 Acts 2
After Jesus rose again and ascended to the Father, He sent the promised Holy Spirit, as described in Acts 2. The coming of the Holy Spirit was manifested with some miraculous signs and wonders. Peter was speaking to a crowd that had witnessed the powerful entrance of the Holy Spirit to those gathered there.
He explained that many of them had participated in murdering the Son of God Himself, the Savior of mankind (which was required for salvation)!  In verse 37, they were pierced to the heart, and said to Peter and the rest of the apostles, "Brethren, what shall we do?" 38 Peter said to them, "Repent, and each of you be baptized in the name of Jesus Christ for the forgiveness of your sins; and you will receive the gift of the Holy Spirit.
Why Baptism?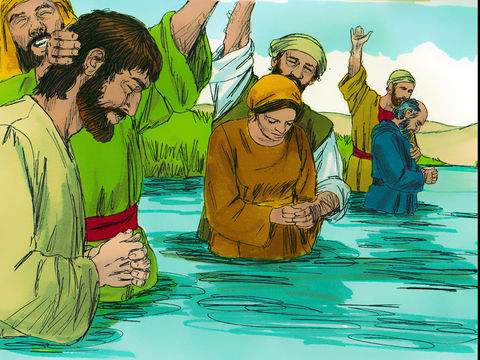 Baptism is a symbolic act of burying the old self; our fallen sinful nature. That sinful nature was taken to the cross in advance by Jesus to pay for our sins (1 Peter 2:24), before were even born! The water also represents being baptized by the Holy Spirit. Rising back up out of that water represents us being "resurrected" with Christ into a life of Jesus living in us through the Holy Spirit!
That incredible promise of power living in us for victory against the enemy, sin and the devil, is described in many places in the Bible. Paul explained in Galatians 2:20 I have been crucified with Christ; and it is no longer I who live, but Christ lives in me; and the life which I now live in the flesh I live by faith in the Son of God, who loved me and gave Himself up for me.
Repentance and forgiveness of sins is an incredible choice that God has given us! How can we ask God to forgive us without falling on our knees in deep repentance with incredible joy and gratitude? Gratitude for not only forgiveness, but for the promise of eternal life, and for power in this life now! Power comes from being baptized by the Holy Spirit, through Whom God makes His home in us. 
After promising to send the Holy Spirit before He was crucified Jesus promised, "If anyone loves Me, he will keep My word; and My Father will love him, and We will come to him and make Our abode with him." John 14:23
Before his conversion, Paul had been a self-righteous Jewish religious leader who had thought he was doing God's work by arresting and murdering Christians (Acts 9)! In his letter to the Ephesian church, Paul expressed the incredible awe he felt as a result of the incomprehensible Gift we are offered. It is something we should deeply contemplate upon accepting the choice of God's complete salvation.
Ephesians 3:14 For this reason I bow my knees before the Father, 15 from whom every family in heaven and on earth derives its name, 16 that He would grant you, according to the riches of His glory, to be strengthened with power through His Spirit in the inner man, 17 so that Christ may dwell in your hearts through faith; and that you, being rooted and grounded in love, 18 may be able to comprehend with all the saints what is the breadth and length and height and depth, 19 and to know the love of Christ which surpasses knowledge, that you may be filled up to all the fullness of God.
20 Now to Him who is able to do far more abundantly beyond all that we ask or think, according to the power that works within us, 21 to Him be the glory in the church and in Christ Jesus to all generations forever and ever. Amen.
The indwelling of God Himself living in us strengthens the "inner man" with power not available to the natural human state. Read verse 16 again, "that He would grant you, according to the riches of His glory, to be strengthened with power through His Spirit in the inner man." That power comes with the progressive maturity of our relationship with His indwelling presence within us (verse 17). It begins with repentance and forgiveness.
Cleansed by His Blood
God is overflowing with mercy that never ends, but He is also a God of justice, requiring the penalty to be paid for sin (John 6:23). The God of creation put inexorable laws in place, including the death penalty for all who sin. That includes every human being since Adam (Romans 3:23), other than Jesus Himself. We are admonished to fear Him who can destroy the soul in body in hellfire, but who's unlimited  love turns that initial fear into deep awe-inspired reverence.
"His mercy endures forever" (Psalm 136 NKJV) and our repentance from sin must continue progressively. We can now "walk in the light", instead of darkness. If we slip and sin, He will forgive us again and again by His own death and cleanse us by His blood. He let His own blood pour completely out of His human body for each of us who seeks repentance and forgiveness.
A truly repentant attitude allows us to be cleansed over and over by His precious blood that was spilled for us. A repentant attitude is the opposite of "walking in darkness". His mercy is not a "license to sin". That would continue to be walking in darkness.
1 John 1:5 This is the message we have heard from Him and announce to you, that God is Light, and in Him there is no darkness at all. 6 If we say that we have fellowship with Him and yet walk in the darkness, we lie and do not practice the truth; 7 but if we walk in the Light as He Himself is in the Light, we have fellowship with one another, and the blood of Jesus His Son cleanses us from all sin. 8 If we say that we have no sin, we are deceiving ourselves and the truth is not in us. 9 If we confess our sins, He is faithful and righteous to forgive us our sins and to cleanse us from all unrighteousness. 10 If we say that we have not sinned, we make Him a liar and His word is not in us.
Jesus was God in the flesh, "who has been tempted in all things as we are, yet without sin" (Hebrews 4:15). Through the Christ-event, He was able and willing to pay the penalty for breaking the law that He, Himself, had put in place! He did that because He created mankind with free will and because of His incredible love.
Satan deceived all of humanity. We experienced a fall into evil and darkness starting with Adam. Through the cross, Jesus is triumphant over evil! Through Jesus, we can choose to be raised into the joyous light of His righteousness. The gates of hell no longer has a hold on us! Satan can claim us no longer after repentance and forgiveness through Jesus!
Mercy Has Triumphed Over Judgment!
Because of Christ's sacrifice, upon our repentance mercy triumphs over judgement (James 2:13). He has set before us "life and death, blessing and cursing". He has given us the opportunity to choose the priceless gift of salvation; repentance and forgiveness of sin, power, and eternal life. We must choose! To make no choice is itself a choice.
Choose life! To receive repentance and forgiveness, confess with your mouth right now that Jesus is your Lord. Believe in your heart that He was raised from the dead for your salvation.
"Lord Jesus, I repent of my sinful ways and accept your sacrifice for me. Cover my sins with your blood and lead me always in the light of your Life through your resurrection. Come and make your home in me through the Holy Spirit."
If you have done so today, you need to find someone to baptize you and receive the gift of the Holy Spirit of power. Now begins your lifelong pursuit of the personal relationship with the righteousness of Jesus Christ living in you!
---
Please feel free to contact us here!
---
Many images on this page provided by Good News Productions International and College Press Publishing and SIKU/Edge Group.